The Ultimate Guide to Hospital Management System
The Covid-19 outbreak has accelerated the adoption of cutting-edge software solutions for remote health monitoring. Also, it improves hospital management processes. When it comes to delivering healthcare services effectively and controlling daily activities in a big hospital, the hospital management system is a crucial tool. This hospital management system enables monitoring hospital equipment, assessing the performance of medical workers, analyzing data, and more. In this blog, we will provide you with essential information about hospital management software. These include its key features and the advantages it can bring to your business.
What Is a Hospital Management System?
The healthcare industry is a thriving field with many potential. With the right tools in place, like an integrated Hospital Management System, you can unlock even greater growth and efficiency. Hospital Management System is a powerful software that is designed to streamline and optimize every aspect of hospital operations. This system helps manage patient data, financial compliance, hospital operations and beyond.
The benefits of a Hospital Management System: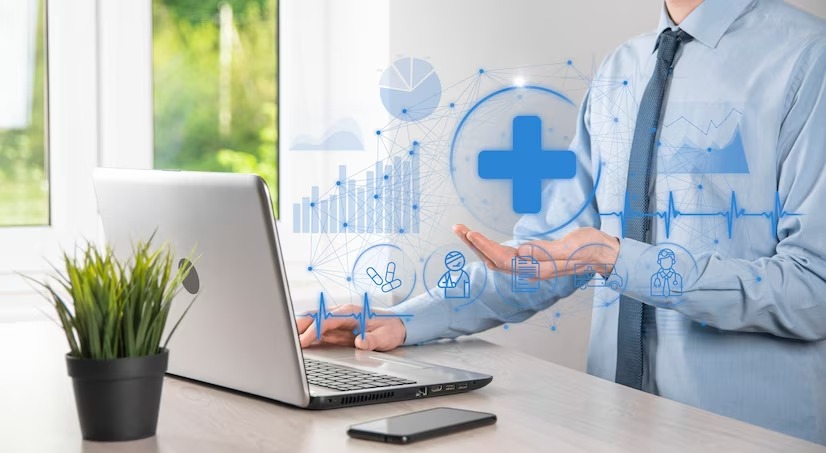 To manage a hospital effectively, especially with multiple branches, is not an easy task. Making the right decisions at the right time is crucial in every process. You can make your work easier by using the Hospital Management System (HMS). Below are the benefits you will get by implementing a Hospital management system.
1.You don't have to go with the mountains of paperwork. You can easily get each information whenever you need it.
2. You can easily manage patient appointments with a user-friendly system.
3. With the Hospital management software, you can easily organize all your inventories. So you don't have to waste your time searching for the supplies.
4. You can save money by optimizing processes and eliminating unnecessary expenses.
5. This HMS can help you to get updated about all patients. So that you can deliver exceptional care with improved efficiency and personalized attention.
6. You can secure all your patient records and sensitive information.
7. You can easily communicate with the doctors, staff, and departments with proper information.
8. The Hospital management software can generate insightful reports to make data-driven decisions for improved performance.
Must-Have Features for a Hospital Management System
When selecting a top-notch tech solution for hospital management, it's crucial to identify the core features needed to create the perfect software. The more useful features you incorporate, your system will be more optimized. Here are the essential features:
Streamlined Patient System:
This feature simplifies patient registration and manages health data efficiently. Another important feature is the automated call processing function. It can help to enhance patient service and allow patients to schedule appointments anytime, anywhere.
Laboratory Management System:
This feature ensures that the patient data is automatically updated and sends messages to clinic staff and patients via communication channels. This feature significantly impacts the speed and accuracy of treatment.
Inventory Management System:
This is one of the key features which is necessary for management. This feature will help you to track all inventory items, drugs, and medical materials. So that you will update about your availability, estimate delivery dates, and receive restock notifications.
Various Types of Hospital Management System Software and Their Advantages:
When it comes to hospital information management systems, there are numerous hospital software systems solutions available to enhance specific healthcare processes. These are:
Hospital claims management software:
It streamlines and optimizes the organization, billing, and processing of patient claims for diagnoses, treatment plans, and medication.
Hospital asset management software:
This hospital software systems efficiently plans, maintains, and disposes of machinery and physical assets within a healthcare unit.
Hospital contract management software:
It simplifies and improves the contracting process, making it easier for hospitals to access and approve routine agreements. This is mostly helpful for handling large contract volumes.
Hospital facility management software:
It ensures facility compliance, predicts future needs, and prioritizes capital improvements to keep hospitals running smoothly.
Hospital supply chain management software:
It manages and streamlines processes and procedures within the hospital unit.
Hospital information management systems: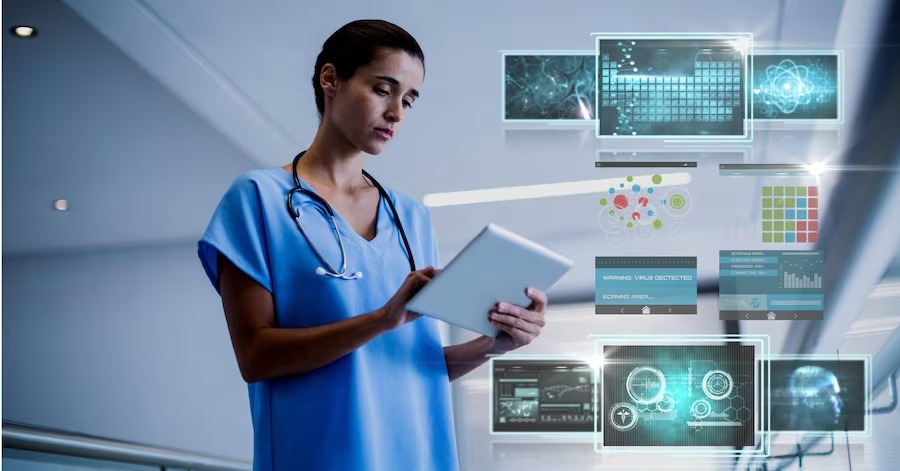 This software stores and analyzes various information types while facilitating effective communication between hospital staff, doctors, and patients.
The main purpose of any hospital management software is to optimize performance within a healthcare unit. Hospitals can choose the software type that best aligns with their goals and needs or create customized hospital management software tailored to their requirements.
Conclusion
When we think about healthcare IT Solutions, everything should be accurate and easy to use. So that people can save time and get real service on time. Experience flawless healthcare IT solutions with Equinox IT Solutions. Our talented developers and designers are dedicated to creating robust, user-friendly software. As leading providers in the field, we have a proven track record of successful project deployments. Contact us today to benefit from our hospital management software development services expertise.
FAQs
What is a Hospital Management System (HMS)?
Every area of hospital operations can be streamlined and improved with the help of the robust hospital software system known as Hospital Management System. In addition to managing patient data, this system also supports hospital operations and financial compliance.
What are the key benefits of implementing a Hospital Management System?
By implementing hospital management software, you can get more benefits. Firstly, it can streamline the data management process and reduce errors, leading to better and improved patient outcomes. With real-time information, you can secure your hospital data. Also a Hospital management system can help hospital administrators to analyze their resources, staff, and equipment, leading to more effective planning and increased productivity.
How does an HMS handle patient records and appointments?
An HMS is a tool designed to streamline this process. It enables the management of electronic medical records (EMRs) by eliminating paper-based systems. HMS also facilitates appointments, reducing waiting times and errors in scheduling. These systems can be customized to meet the specific needs of a particular healthcare facility like setting appointments, scheduling follow-up consultations, and tracking patient histories.
Can an HMS help in inventory and pharmacy management?
HMS can help streamline the entire inventory and pharmacy management process by providing real-time information on stock quantities, supply order placements, and the status of medication dispensation. An HMS can also help reduce errors, enable accurate tracking of expiration dates, and optimize medication stocking levels, leading to better patient outcomes and lower costs. In short, investing in an HMS is an excellent way to enhance the efficiency of inventory and pharmacy management in healthcare facilities.
How can one choose the right Hospital Management System for their facility?
Before choosing the right hospital management system, first, ensure that the software caters to your specific needs. It should streamline all hospital operations while keeping data secure and accurate. Choose a vendor with experience in the healthcare sector as well, and make sure to ask for feedback from current users to grasp the system's advantages and disadvantages. The platform's cost-effectiveness should also be taken into account, so make sure it fits your spending plan.