Top 10 Benefits of Google Ads to business
Now a days, countless advertising outlets are available for posting Ads. That's why people feel confused about which platform they can get the best result. Compared to other platforms, Google is one of the best platforms for Google display Ads. As a search engine giant, Google offers the perfect platform for display ads. With Google Ads, there is a high chance to convert leads and maximize your Return on Ad Spend (ROAS). If you want to reach a wider audience and dominate the market, ranking high on Google's search engine results is crucial. But competition can be fierce. That's where Google Ads steps in. Through intriguing text, captivating displays, and attention grabbing video ads, businesses can create compelling ads to target their audience. Read this to learn about the top 10 benefits of Google Ads. Also, reveal how this powerful advertising tool can boost brand awareness and ensure your triumph over competitors.
What is Google Ads?
Google Ads is an innovative online advertising program that puts your business in front of the target audience. With this powerful Google advertising platform, you can create captivating ads that connect with your target audience. Those audiences who are actively seeking the products and services you provide. With Google Ads, you can tap into the vast user bases of Google and YouTube to maximize your reach. Best of all, Google Ads operates on a pay per click (PPC) method. This ensures you only pay when someone actually engages with your ad. With Google's advertising method, you can boost your online presence and can get real results without spending more time.
How does Google Ads work in a nutshell?
With Google Ads, you can bid on keywords and compete for prime ad placement. Whether in search results or other websites, Google Ads helps you reach your target audience.
An ad auction takes place each time a user searches on Google or visits a website. Google calculates an Ad Rank for every ad in the auction, determining whether your ad will be seen.
There are six factors that define an Ad Rank:
Max Bid
Ad quality and landing page experience
Ad rank surpassing thresholds
Competitiveness
User search context (device, location, time of day, search intent)
Expected impact of ad formats and extensions
If your Ad Rank is high enough, your ads may appear on top search results. Four ad slots are on top, with more at the bottom of search results.
For a higher ranking on a search engine, you need to optimize your ad quality first. You can determine your optimized quality through the quality score. That shows a scale from 1 to 10. Google never uses Quality Scores directly in any active ad auctions. But it helps in improving overall ad quality.
What are the top 10 Benefits of Google Ads to business?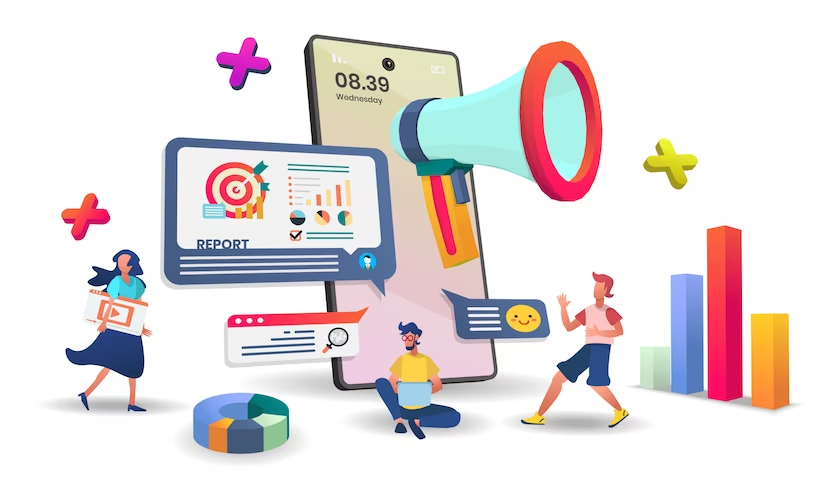 If you want to expand your online presence and generate more leads, then Google Ads can be your best option. Beyond increased visibility and lead generation, countless benefits come with using Google Ads. That's why so many companies make it a cornerstone of their online business strategy. Below are some major top 10 benefits of Google Ads, which you will get after using Google advertising service.
Achieve faster results with Google Ads.
Getting a faster result is one of the top benefits of Google ads. Google Ads gives faster results as compared to other platforms. You can create an account and set up your first campaign in just hours. By following the rules, you can create your campaign ideally. Then, you can analyze your ads and make edits if it is not performing well.
During the learning phase, Google advises against changing bidding settings. The overall process remains fast and efficient. You'll quickly gain insights into what strategies are adequate for your business goals.
Organic methods, like SEO, take more time to give results than Google Adsense. Therefore, Google Ads is a powerful tool to increase your online business to achieve your business goal.
Maximize your advertising impact on Google.
With Google Ads, you have the power to target your ideal audience with precision. To reach your target audience, you can customize your Ads by location, keywords, language, age group, and more. Plus, you can specifically target those who have already shown interest in your product or visited your website. This means you're only investing in high-quality leads and not wasting money on uninterested viewers.
Boost brand recognition and awareness.
When it comes to online research, product searches, and browsing, people turn to Google first. That's why it's crucial to establish a presence on the world's most popular search engine. By advertising your website on Google Ads, you guarantee that your brand will always be in front of your target audience. Users who see your ad multiple times are more likely to remember and trust your brand. This exposure will ultimately lead to more leads, conversions, and real customers.
Maximize your customer connections with Google Ads.
Don't let website visitors slip away without taking action. With Google Ads, you can retarget those visitors and keep your business in their minds. Whether through eye-catching banners on other websites or dynamic ads that follow them, you can capture their attention, and turn leads into conversions. Stay connected with your audience even when they're not actively searching for your company.
Maximize your local sales with Google Ads.
If your business relies on local traffic, Google local services advertising can give you a better result. Strategically advertising during peak times will drive more traffic and increase sales. Take advantage of high purchase intent with locally targeted ads, especially for service-related keywords. If you add Google Maps to your campaign, there is a high chance that those searching your services locally will get more customers.
Monitor and measure ad campaign performance.
In-depth metrics on your ad campaigns, including clicks, impressions, visitors brought in, conversions, and more, are provided by Google Ads. Google Ad reports can also show the source of leads, the keywords that triggered the ad, and the most effective ad types. This makes it simple to identify the most effective campaigns, alter them for improved outcomes, or discontinue those that aren't bringing about the desired results.
Control your campaign budget.
Fine-tuned control over your campaign budget is a major advantage of Google Ads. You need to target specific keywords and choose a bidding strategy based on what's most important to your business. You can then set a daily budget for each campaign to ensure you don't overspend while maximizing your reach. Moreover, you can pause your campaigns anytime if the costs become too high or you want to modify your ad content.
Track and outperform your competitor's ads
Google Ads is a transparent platform where you can track what your competitors are doing and how they're bidding for their keywords. This allows you to analyze their strategies and adjust yours accordingly. If competitors are bidding on the exact keywords as you, you could bid higher CPC, try less competitive keyword variations, or improve the quality of ad content.
Maximize Your Ad Campaign Performance with Google Ads
With Google Ads, you can track, measure, and optimize your ad campaigns. Also, you can get detailed analytics on clicks, impressions, conversions, and more. See where your leads are coming from and which keywords drive traffic from the Google Ad reports. Then, you can quickly identify your best-performing campaigns, make necessary adjustments, and stop campaigns that aren't delivering the desired results.
Take Control of Your Campaign Budget
Get benefits from fine-tuned control over your budget. Target specific keywords and choose a bidding strategy that aligns with your business goals. Set a daily budget for each campaign to stay within your spending limits while maximizing your reach. Pause campaigns whenever necessary to manage costs or change your ad content.
Stay Ahead of the Competition
Uncover your competitors' advertising strategies and bidding tactics on the transparent platform of Google Ads. Analyze their moves and adapt your strategy accordingly. Outsmart them by bidding higher on competitive keywords, exploring less competitive variations, or enhancing the quality of your ad content.
Get the most out of your investment(ROI) with Google Ads.
Google Ads delivers incredible returns on investment for businesses. With precise targeting, you can reach the audience most likely to visit your site and increase conversions. Plus, Google Ads analytics provide valuable insights on campaign costs and effectiveness, helping you improve your marketing strategies and make informed decisions for the future.
Increase conversions through Google Ads.
When it comes to showing your ads to potential customers, Google considers the user experience on your landing page. Ad networks that don't prioritize landing page experience may send visitors to irrelevant pages, wasting your budget. To ensure your ads get seen and maximize your ad spend, you need a highly persuasive landing page that perfectly matches your message and has a focused design.
Conclusion
Google Ads can offer businesses of all sizes a wide range of advantages, from increased reach to target conversions and ROI tracking. With the ease of adjusting keywords, bids, and strategies, it is an effective way to reach more qualified customers, bring visibility to your company, and amplify brand advocates for maximum market penetration. Google Ads makes launching sophisticated campaigns that measure, emphasize, and improve performance easier than ever. So, if you're looking for ways to compete in the online marketplace, leverage the countless benefits of Google Ads today! Equinox offers various services to help businesses get the most out of their campaigns. Contact us now and let us help you generate even more success with Google Ads.
FAQs
What are the top benefits of using Google Ads for my business?
With Google Ads you can connect with the right audience, without spending more time. Also you can easily target customers based on multiple factors. Such as location, interests, demographics, etc.
How does Google Ads help improve my brand's visibility?
You can increase traffic to your website by executing targeted advertising campaigns on Google's search results pages. You may attract people who are actively looking for your product or service by optimizing your advertising with pertinent keywords and ad language. This will increase audience engagement and boost conversion rates. You may increase the visibility of your brand by doing these.
Can I target a specific audience with Google Ads?
It is possible to target a specific audience with Google Ads. You can get your target audience by customizing factors like age, interest, location, etc.
How does Google Ads provide measurable results?
From conversion tracking, you can see exactly how the ads are performing. Like which ads bring in the most revenue and which need to be fine-tuned. Also, Google Ads provides detailed reports and analytics that give businesses a detailed view of their ad campaigns, allowing for continuous improvement.
Is Google Ads cost-effective for businesses?
The cost of Google Ads can vary depending on your industry and competition. Also, which services you are targeting, and location size also makes an impact on Google Ads. With the proper optimization of Google Ads, you can control costs.